CANADIAN ROCKY MOUNTAIN Ranch
The Birthplace of
Rocky Mountain Cuisine
How Rocky Mountain Cuisine was Born
Long before they started the CRM Ranch, Pat and Connie O'Connor owned the Canadian Rocky Mountain Resorts. It was in the kitchens of Buffalo Mountain Lodge in Banff, Deer Lodge in Lake Louise, and Emerald Lake Lodge in Yoho National Park that "Rocky Mountain Cuisine" was created.
Guests from around the world quickly acquired a taste for this exciting new alternative food concept. Within five years, the venison, caribou, elk and buffalo dishes expertly combined with the very best local ingredients accounted for half the meals served at Canadian Rocky Mountain Resorts.
How Our Products are Distributed
As the demand for high quality game meat grew, so did the challenge of finding reliable local suppliers. The O'Connor family faced this challenge head on and established Canadian Rocky Mountain Ranch on 540 acres of grassland in the foothills southwest of Calgary in 1996. The ranch has grown to more than double that size today. Most of the feed resources, oats and green feed for the animals are also produced on family-owned adjacent land.
Throughout history, elk have been hunted for their quality lean meat. Elk meat is protein-dense, and lower in fat and cholesterol than beef, pork, and even most cuts of chicken. It is also an excellent source of iron, phosphorous and zinc.
While the North American elk population is quite widely distributed, It tends to concentrate from the plains of the American Midwest to the northern California forests. In Canada, the overwhelming population of elk is concentrated along the eastern slopes of the Rocky Mountains, a habitat in which they enjoy protection from predators in evergreen forests, and ample vegetation upon which to graze. Elk are voracious eaters, and as vegetarians will eat almost any plant found in their home range.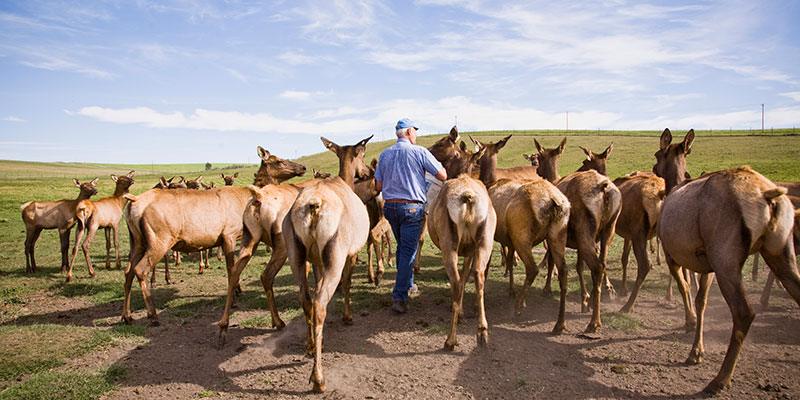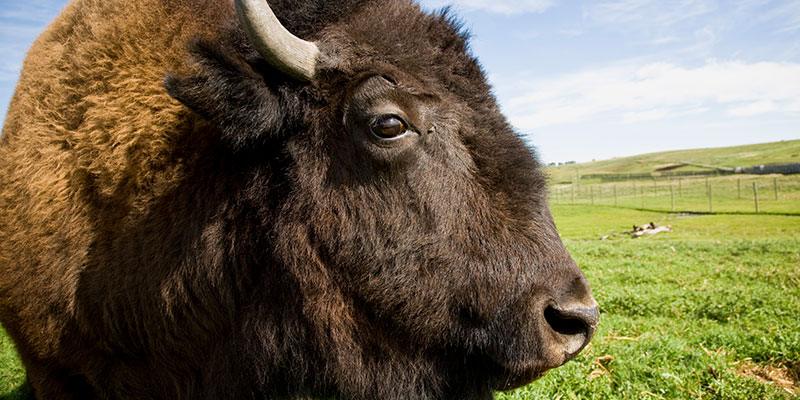 The bison, which we know as buffalo, is the largest mammal on the North American continent. It is characterized by curved horns, large shoulders, and tapered hindquarters. Bison originally inhabited most of the North American continent and evolved into two types, the Plains and Wood Bison. Although they are closely related, the Wood Bison lives farther north and is bigger than the Plains Bison.
Adult bison require about 25 pounds of forage a day. Bison prefer grass but when necessary will eat leaves and other forage. The expansive grasslands and meadows of CRM Ranch provide an ideal environment for Bison to thrive, in a home that is almost identical to their natural habitat.
To bring the best game meat in the world to the table, in a natural and humane way, we raise our animals in spacious, open and stress-free conditions. This allows for freedom of movement and natural social behaviours to ensure maximum development and animal contentment. For us, it makes sense economically, and it makes sense ethically.
Ethical Animal Management
Our guests are increasingly health conscious. That is why we do not use any hormones, animal by-products or growth enhancing additives at Canadian Rocky Mountain Ranch.
Our animals remain on pastures year-round and are rotationally grazed on both native grass and alfalfa-grass pastures. During the non-grazing season, we provide supplemental forage on pasture for our animals. We typically feed alfalfa and brome grass hay and/or green oat hay. We also supplement with whole oats and a mineral and vitamin pellet to support the additional nutritional needs for growth, lactation and velvet antler growth. Our animals are never full fed grain rations as in confinement livestock systems.
Our animals are vaccinated and injected to control parasites annually.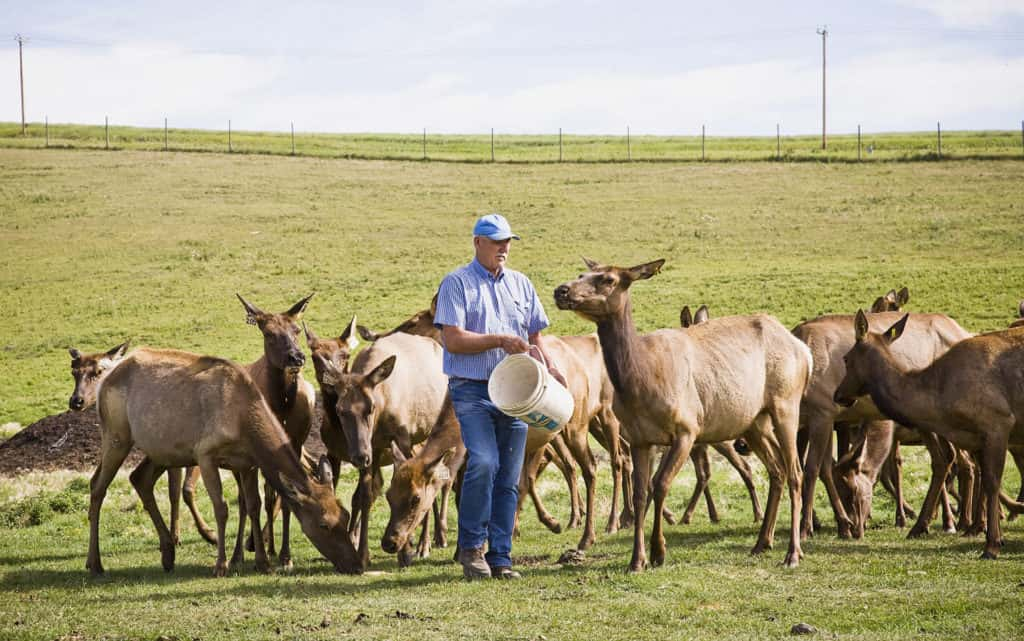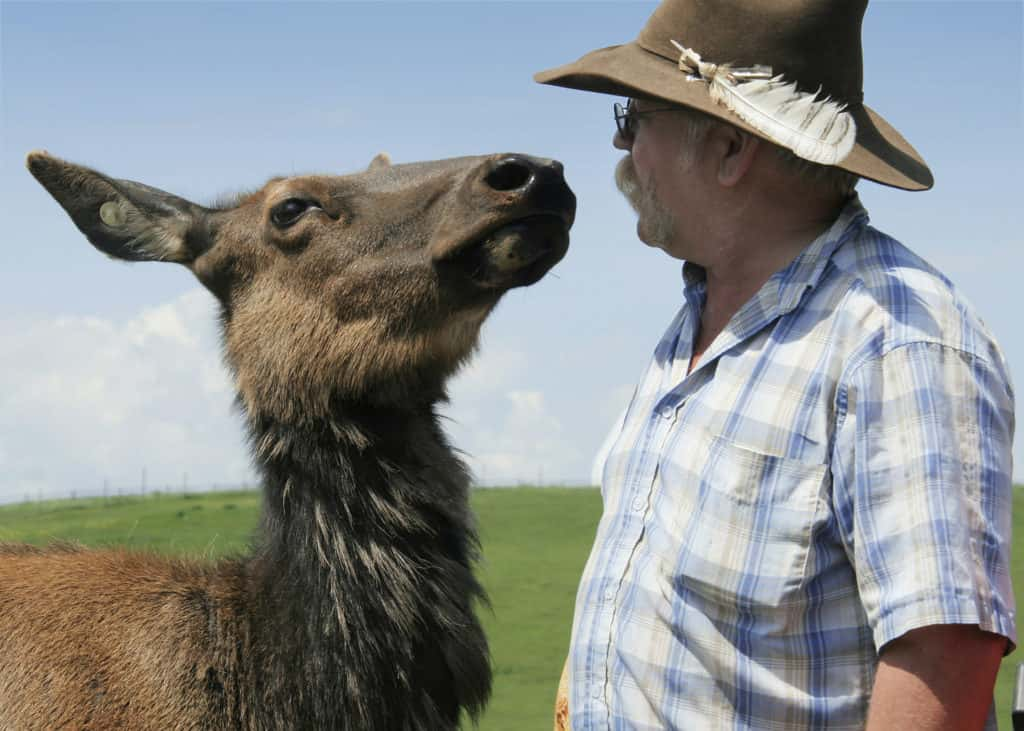 Humane handling and treatment of our animals is a high priority at Canadian rocky Mountain Ranch. We strive to handle all of our animals calmly and peacefully. Over the years, we have developed low stress methods and facilities and handling systems to provide maximum safety for both people and animals and to ensure a high quality product. We transport our animals to the processing plant with our own truck and trailer and a driver who is familiar with bison and elk. We select the animals for processing based on their market readiness from pre-socialized groups about a week or 10 days before transport. They are held in an area adjacent to the loading / handling system that they are familiar with and provided with feed and water as necessary. We move them quietly into the handling area to be loaded and transported to the processing plant.
We use just in time delivery at the plant, so that the animals are not standing for long periods in the trailer or holding pens.
We have also participated in several research studies in 2001 and 2002 to develop a painless and residue-free method of removing velvet antlers from our elk bulls. This research has been published and is now utilized throughout North America.