July 7, 2022 (Calgary, AB) – Post Hotel & Spa is pleased to announce that they have been awarded Wine Spectator's Grand Award for the 21st consecutive year. The Grand Award wine program, which has been presented to the hotel annually since 2002, is under the direction of Cellar Master, Misun Bu and Sommelier, Julian Simard-Gillis. Since the previous owners, George & André Schwarz sold the hotel in November 2021, George is still overseeing the wine program on a consulting basis. The new owners, Canadian Rocky Mountain Resorts (CRMR) are committed to continue the wine program as before.
"We are dedicated to maintaining the long-standing reputation of one of the most notable wine cellars in Canada and upholding the incredible legacy of hospitality the Post Hotel & Spa is known for," says Larkin O'Connor, President of CRMR. The dining room at Post Hotel & Spa is one of four Canadian restaurants to be bestowed the honour Wine Spectator's Grand Award.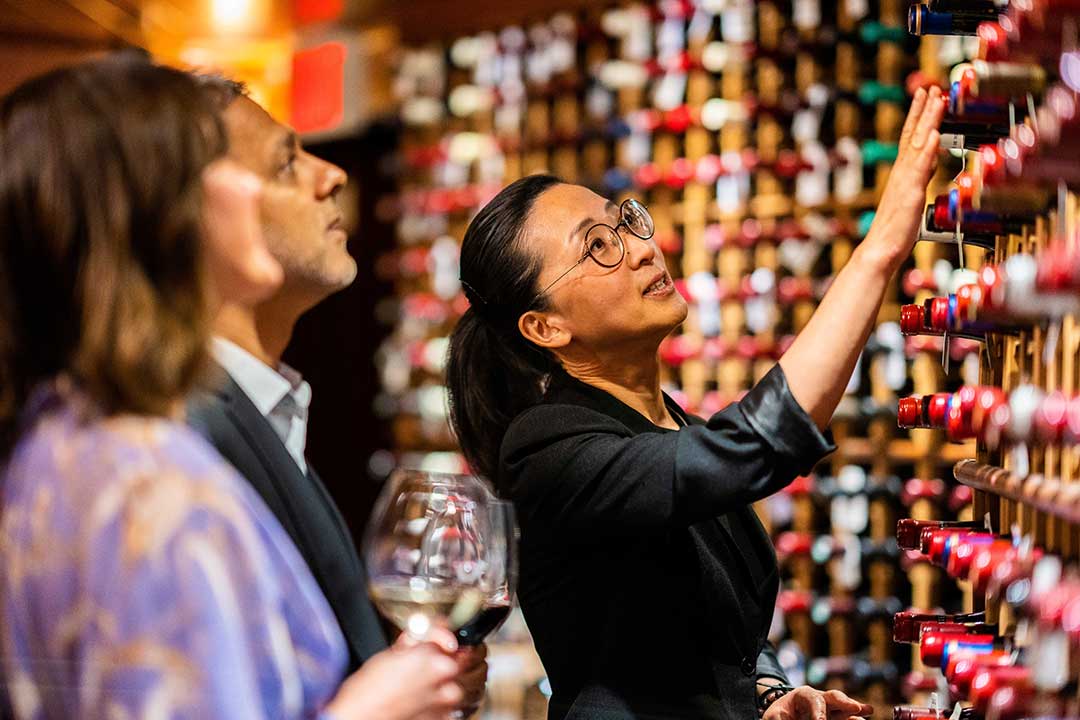 The wine cellar is located in the basement of the original 1940's log lodge and is easily accessed from the Dining Room. Guests are in awe when they descend to the cellar and view the vast array of 20,500 bottles comprising of 2,473 labels. "Many bottles are ageing and are not yet listed, including both our Bordeaux and Burgundy collections from the 2017 and 2018 vintages," says Bu. "Of special note, more than 95% of our wines were acquired at release and have been stored in our cellar since." Surrounded by rack-filled walls, the main area of the cellar features a beautiful, custom-made table, ideal for special wine tastings and private dinners for up to 14 guests. Smaller storage areas in the cellar are cordoned-off with antique wrought-iron gates, each section housing carefully chosen treasures from the world's greatest wine regions. Of course, the cellar is temperature and humidity controlled.
The Post Hotel & Spa wine program continues under the guidance and consultation of George Schwarz. Misun Bu has been the Cellar Master in charge of the beverage team since 2017 alongside Sommelier Julian Simard-Gillis who joined in 2018. Julian has recently won The Chaine des Rôtisseurs Young Sommeliers of Canada competition and will be going on to compete at the international competition in Europe later this year. Their dedication and knowledge have been greatly respected by management and guests. Misun, Julian and their team are always on hand in the dining room to assist guests with knowledgeable wine recommendations throughout their stay.
Media Inquiries & Requests
Pam Goldfeldt
Marketing Manager
Canadian Rocky Mountain Resorts
pam.goldfeldt@crmr.com
(c) 403.827.7266
(p) 403.775.7783
ABOUT CRMR
Canadian Rocky Mountain Resorts is a family of companies consisting of Emerald Lake Lodge in Field, British Columbia, Deer Lodge in Lake Louise, Alberta, Buffalo Mountain Lodge in Banff, Alberta. CRMR also owns The Lake House, Urban Butcher, QEVA and The Canadian Rocky Mountain Ranch.
ABOUT POST HOTEL & SPA
Originally built in 1942, The Post Hotel resonates with the spirit of its colourful founder, Sir Norman Watson – and the dedication of its current owners. Born in Switzerland, brothers André and George Schwarz were raised to appreciate good food, good wine and good company. For more than 43 years, their shared passion has been to welcome guests to this world-class Canadian Rocky Mountain resort. The Post Hotel & Spa is both the ideal accommodation for relaxation and the perfect starting point for most Canadian Rockies tours.
Post Hotel & Spa has been Awarded Wine Spectator's Grand Award for the 21st time.