November 29, 2021 (Calgary, AB) – Canadian Rocky Mountain Resorts (CRMR) is pleased to announce that they will be adding a fourth hotel to their collection of rustic mountain lodges in the Canadian Rockies with the acquisition of the Relais & Chateaux Post Hotel & Spa in Lake Louise. In a parallel fashion to the Schwarz brothers, CRMR has taken on the lead investor role and the management contract for this unique property alongside other local Alberta investors.
CRMR also owns Buffalo Mountain Lodge in Banff, Deer Lodge in Lake Louise, and Emerald Lake Lodge on Emerald Lake as well as Urban Butcher and The Lake House in Calgary.
"We are extremely excited to carry on the incredible legacy of the Schwarz brothers and welcome The Post Hotel and Spa into our family of companies," says Larkin O'Connor, President of CRMR. "Building upon the foundations that have been created by André and George, we look forward to continuing the traditions of the Post Hotel & Spa and honouring its renowned Schwarz hospitality."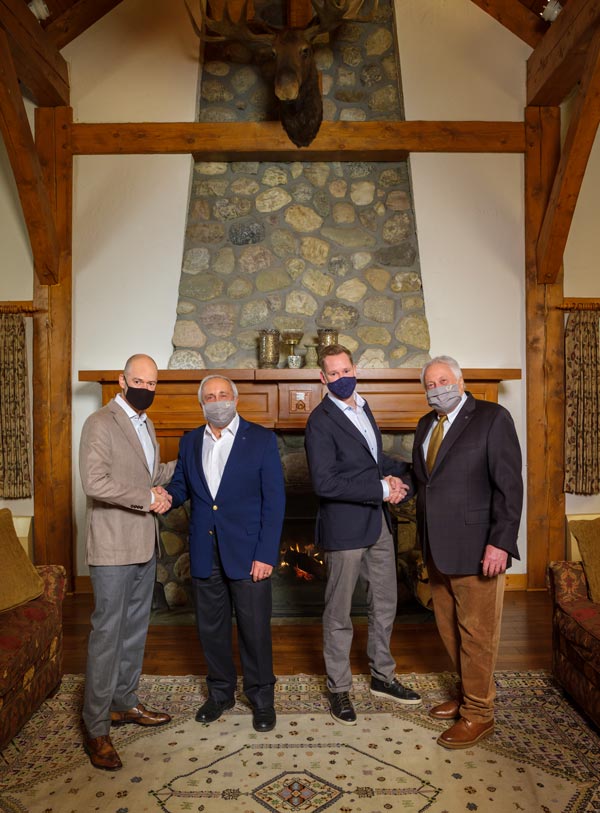 "This was an incredibly difficult decision for us," says André, Co-Owner of The Post Hotel & Spa. "We are happy that CRMR, who is also a family-owned company, will be the new owners. They share with us a commitment to rocky mountain culture, excellent service and family values."
"We view this sale and transition more as a passing of the torch, from a pair of brothers (André and me) to another pair of brothers (Ryan and Larkin), who are committed to carrying on the traditions of the Post Hotel & Spa that have led to creating great friends and lasting memories with all our guests and staff," says George, Co-Owner of The Post Hotel & Spa. "We wish them every success with the Post Hotel & Spa and know our guests and staff will be treated as part of their family."
In order to maintain consistency and uphold our commitment to the Schwarz legacy, the CRMR team will be retaining the current management team (Michael and Carol Schwarz) as well as all the staff at The Post Hotel & Spa and will work closely with them to ensure a smooth transition.
"Given the nature of this transaction, the major benefit is that we are able to retain all the staff in order to preserve the legacy, culture and atmosphere created by the Schwarz brothers," says O'Connor. "The staff are what makes this property what it is, and we look forward to working, learning and growing with them."
Matt Rachiele with Colliers International acted as financial advisor to CRMR on the acquisition. Rachiele's hard work and shared passion helped match Ryan and Larkin O'Connor up with an equally passionate group of local Albertans. This once in a generation sale was completed in such a positive, collaborative, and passionate way, it could have only happened between individuals with a shared love of the Rockies and unmatched boutique hospitality experiences.
CRMR looks forward to welcoming The Post Hotel and Spa's guests and staff into our family, as we continue to celebrate rocky mountain culture, Swiss-Canadian hospitality, and strong family values.
—
For Images:  High resolution images of all four gentlemen are located here: https://bit.ly/3o4znMC
For Media Requests:
Lauren Telfer
Director of Marketing & Communications
Lauren.telfer@crmr.com
587-893-8945
ABOUT CRMR
Canadian Rocky Mountain Resorts is a family of companies consisting of Emerald Lake Lodge in Field, British Columbia, Deer Lodge in Lake Louise, Alberta, Buffalo Mountain Lodge in Banff, Alberta. CRMR also owns The Lake House, Urban Butcher and The Canadian Rocky Mountain Ranch.
ABOUT THE POST HOTEL & SPA
Originally built in 1942, The Post Hotel resonates with the spirit of its colourful founder, Sir Norman Watson – and the dedication of its current owners. Born in Switzerland, brothers André and George Schwarz were raised to appreciate good food, good wine, and good company. For more than 43 years, their shared passion has been to welcome guests to this world-class Canadian Rocky Mountain resort. The Post Hotel & Spa is both the ideal accommodation for relaxation and the perfect starting point for most Canadian Rockies tours.
The Post Hotel & Spa is now part of the Canadian Rocky Mountain Resorts Family of Companies.