When it comes to company retreats, you're probably thinking: trust falls, motivational speakers and catered lunch breaks. What you may not know, is that team-building trips can go far deeper, many focused on keeping employees engaged, motivated and inspired. They can be used to improve employee relationships, make important decisions, show appreciation and improve morale or add a fun element to your office environment.
Those who work in Banff will tell you that the snow-capped peaks and misty summits have more to offer than breathtaking views; that spending time in the mountains has led them to a life of happiness and health. Can you imagine what one trip in the mountains might do for your team? Here are our top reasons why your team deserves a corporate retreat in Banff!
1. Create a Stronger Team
Positive experiences help to strengthen an employee's relationship with their companies and colleagues, they will work harder to ensure success for both.  Increase the team spirit amongst your coworkers with these great Banff activities!
Ice Walks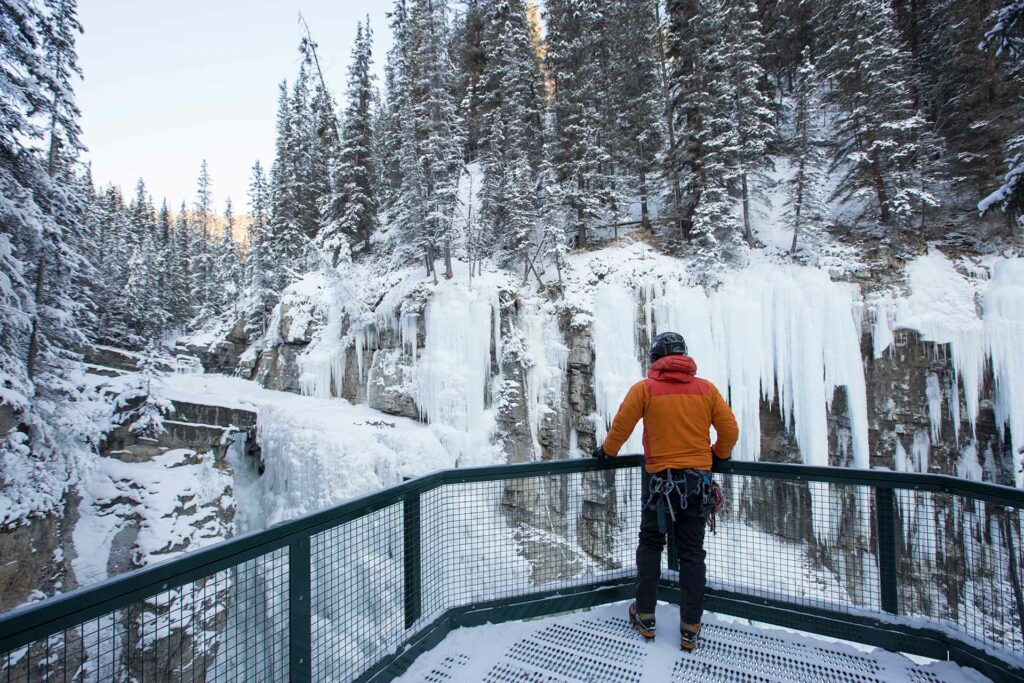 Ice walks can bring out problem-solving techniques and improve leadership within smaller teams as everyone has to work together to reach a similar goal – to get through the walk together! Discover Banff Tours offers easy, professionally guided tours through the majestic Johnston's Canyon located just 15 minutes from Banff. This is a beginners trail with lots to see, including frozen waterfalls and rivers – the tour also includes your ice crampons.
Wine or Beer Tastings
Forming bonds while sipping on a glass of wine is a fun and easy activity that everyone on your team will love. Your staff can bond over their favourite picks and discuss the different notes they liked and didn't like!
Scavenger Hunts or Races
Corporate scavenger hunts are a great way for your team is strategize while discovering the strengths and weaknesses of each member. Working as one group, each team must race around picturesque Banff partaking in various activities or finding items native to the area. Learn, grow and strategize as a team!
Bowling
Fostering unity and strengthening interpersonal relationships is easy when you're playing a fun game of bowling. High Rollers, located on Banff Avenue is the perfect mountain venue to host a corporate bowling event. Pro tip: Try assigning people to teams that have not worked together before!
2. Bring out Hidden Talents
If you're doing the same things every day, chances are people are not going to realize their true talents or the talents of their coworkers.
Team retreats
allow your team to indulge in tasks that don't happen in the normal office environment. For the first time, you may discover that Jane from accounting is really good at snowboarding or that Matt from marketing is an extremely skilled ice climber. Some of our suggestions for bringing out hidden talents include:
Skiing the World Class Resorts
One of the main reasons people flock to Banff in the winter is for the unmatched access to some of the best ski hills in the world. Banff National Park boasts three ski hills all within driving distance from the Town of Banff: Mt. Norquay Ski Resort, Banff Sunshine Village and Lake Louise Ski Resort. One day out on the hill and your team will feel closer than ever. There is always a special sense of adventure and fun when you're hitting the slopes with friends – especially when you hit those après ski drinks!
Ice Climbing
Team building activities like ice climbing have been proven to help increase productivity while allowing those who share the same passion to thrive while sharing their skills with others. It doesn't matter if you are beginner, expert or in a large group; ice climbing in Banff is some of the best in the world. Waterfall ice climbing in an exhilarating sport that helps to strengthen relationships.
If you are new to ice climbing and unsure about your abilities, there is no need to worry when you take a guided tour through Banff Adventures! This tour offers private, professionally guided climbs for corporate groups who are looking to try something new.
Cross-Country Skiing
Snow is lit up by the sun, creating a sparkling path before you as you glide silently alongside trees covered in fresh powder. Rounding a bend, the forest opens up to a breathtaking view of a frozen lake and snow-covered peaks. Cross-country skiing offers a special combination of pure, serene wilderness, and energizing outdoor discovery which makes it a popular winter pass-time for wellness seekers and corporate teams alike wanting to explore the area.
3. A Time to Reflect
Reflection is an important aspect of any retreat, whether it's on your personal performance or work created by your team. Banff is an ideal place for reflection – the serene tranquillity that's emitted by the mountains brings a peace of mind and clarity to anyone who is seeking answers about their work or personal life. The below activities will help even the busiest employee relax and reflect on themselves.
Yoga or Fitness Classes
Practicing yoga can help you find your inner balance and strength and can also be used as a great tool for fighting that workplace stress. Whether it's a vinyasa flow you're looking for, or Shavasana, yoga's focus on movement connected with breath will enhance mindfulness and awareness of the present. If you are interested in a class, many local yoga & fitness instructors come to the lodge, so that you and your colleagues can get a workout in before your next meeting!
Reflect in a Hot Tub with Mountain Views
Embrace in the ultimate relaxation moment as you step into our state-of-the-art steel hot tub at Buffalo Mountain Lodge, take a deep breath of the fresh mountain air and say "Ahhhh". At each of our CRMR properties, you can bask in the idyllic mountain views as snow quietly falls around you, creating an instant retreat into relaxation & personal reflection. Invite your colleagues for a quick brainstorm session while you soak in the day and reflect on the most recent business project.
Coffee or Tea at BML Café
Who doesn't love having a delicious coffee and a snack with friendly coworkers after a long morning of business meetings and speakers? Buffalo Mountain Café located just steps from Buffalo Mountain Lodge provides a great space for people to gather – away from the entire team – to reflect on activities or discussions from the day. This cozy cabin café has lots of tasty treats and drinks that help to stimulate conversation between colleagues – sometimes they stay for hours coming up with new ideas!
Skating
Immerse yourself in the natural beauty of your surroundings by gliding along the frozen ground beneath you – a popular Canadian pastime in the crisp mountain air. Then take a break and warm up with hot cocoa beside a bonfire before heading back out on the ice for more. There are plenty of options for ice-skating in Banff that will humble your thoughts while increasing your stamina.
4. Inspire New Ideas & Enhance Creativity
When employees are in a mountain setting, they are more able to think outside of the box and the office environment. In outdoor settings, individuals are taken out of their comfort zone and become immersed in a changing environment – oftentimes having these experiences together as a team. Team-building activities that increase the need for innovation and creativity can even stem valuable skills from employees that had previously gone untapped. The below list of activities is designed to stimulate your employees while generating a sense of togetherness.
Helicopter Tours
See the mountains from a new perspective and inspire your team to approach projects in the same way! Enjoy a bird's eye view of the Rockies when you take off in a helicopter offering sightseeing opportunities and unparalleled views.
Dog Sledding
Travelling by the power of dogs is a remarkable experience. Originally used as a means of transport by the Inuit people of the Canadian Arctic and the early settlers of Banff, dog sledding has since been adopted as a recreational activity well suited to the snowy slopes of the Canadian Rockies. Inspire your team with an experience they will never forget by generating creativity through an ancient style of transportation.
Snowshoeing
There's something delightfully simple and fulfilling about just going for a walk or brisk snowshoe. It doesn't have to be far or strenuous, but simply wandering and being aware of your surroundings can boost creativity, as you get up close and personal with nature.
Night Sky Photography Lessons
Cold winter nights lend to fantastic conditions for capturing the night sky and generating a sense of wonder – just like when you were a kid. Bundle up, grab a camera and check out Paul Zizka's workshops that boost your Instagram feed with a few stunning long exposures from around Banff and Lake Louise.
Benefits to your Organization
After a corporate retreat to Banff, your team members will feel recharged, have found common ground and improved their relationships with one another. This is often a missing link to creating a more effective and pleasant work environment—simply stepping away for a few days.
Team retreats help your employees find their balance and place in the company again. Refreshed, people tend to be more effective than ever and have a renewed perspective on the issues that have grown stale. If you want to sustain increased productivity, then you'll want to plan yearly retreats to continue to engage your workers. You may even end up spending less on new hires, with rejuvenated employees lowering turnover.
If you're dreaming of a team retreat that looks something like this, we would love to be in touch to help plan your dream team escape