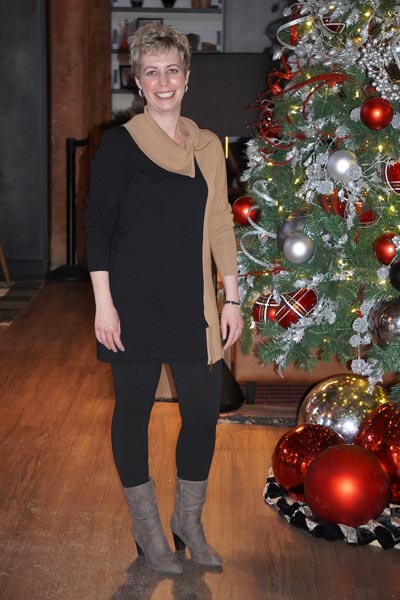 I hear of many people starting out at CRMR, saying "I want Allison's job"!  Allison Dean – Director of Sales, Canadian Rocky Mountain Resorts.  Sounds amazing, but I didn't get here overnight.  Rewind 21 years to the beginning of my CRMR career….
While taking Hotel and Restaurant Management at SAIT, I accepted a front desk position at Deer Lodge (I was 19 years old), to fulfill my internship requirement.  Growing up as a city girl in Calgary, the mountains were always part of my life, but mountain life was not necessarily on my radar. Though my time at Deer Lodge was short (and yes, I still managed to commute home on every 'day off' for a home cooked meal) my internship was completed. I went on to graduate from my program at SAIT.
CRMR and mountain life clearly left an impact on me and I landed a job with CRMR at Buffalo Mountain Lodge.  After 2 years on the Front Desk, earning the title of Front Desk Supervisor, CRMR moved the Reservations team from Canmore to Calgary.  The pull of the city life was too much to keep me in the mountains (now it's the opposite of course)– and so began my shift to sales.
Starting in the sales office as a Reservations Supervisor, my career path looked clear – Reservations, with a little glimpse into Revenue, was my calling (this was so clear I even thought a dog would be a great addition!).  Or so I thought… It became apparent that when I saw more hotel rooms than home, my dog would continue to be a running joke for many years to come.
Though Reservations and Revenue has always remained the foundation of my role, my job description evolved. I was always striving for more. It's not always glamorous, I learned that very early on, but the experiences, the gratification, and the success make it all worth while.  I have been fortunate enough to get involved in many different areas from switching over PMS systems, creating and developing roles and teams, to international recruiting events. Change and perseverance is what got me to where I am today.  From Operations to Reservations to Sales, I moved around throughout these areas and continue to be drawn back to them everyday in some capacity.  
I love what I do. Passion, determination and drive is what shaped my career and taught me to take the road less travelled. 21 years later I realize that I much prefer to be off the beaten path.