There are a million and one reasons to love Summer, especially for those planning to tie the knot! For couples looking for an escape from the city, while still being able to enjoy a touch of luxury on their big day, Buffalo Mountain Lodge may just be the perfect place to consider saying 'I Do'. Located minutes from the town of Banff, Buffalo Mountain Lodge is a secret gem of the area, offering everything a visitor pictures when staying in a pristine National Park – comfortable accommodation with cozy in-room fireplaces, unique mountain-style architecture and delicious dishes authentic to the Rocky Mountains. If this sounds like the spot you've been dreaming of, check out our top reasons why you'll be swooning over this romantic spot in the heart of the Rockies.
1. The breathtaking location and venue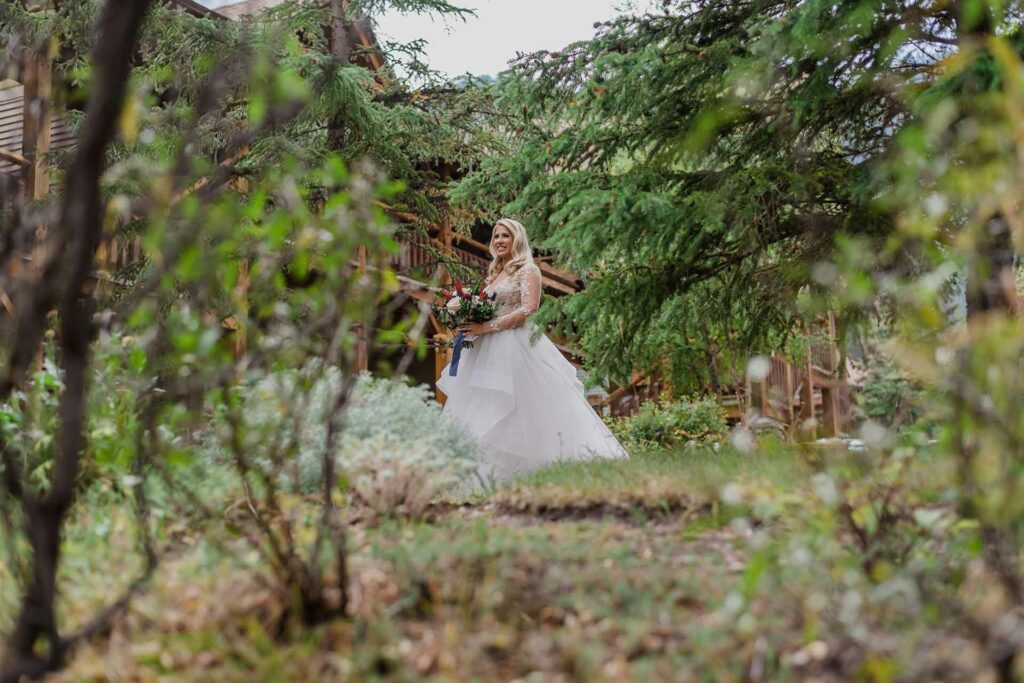 No matter the vibe you're trying to capture for your wedding day, Buffalo Mountain Lodge can cater to both indoor and outdoor weddings in the Summer. For those opting for an indoor celebration, we have three distinct indoor function rooms: the Wapiti Longhouse, the Strathcona and the Wainwright rooms. Each room comes set with the appropriate tables, chairs, white linens and settings to meet the needs of your reception. What's even more special is that all three rooms can double as the ceremony location before being flipped over by our event team for the reception. All three rooms are unique in the aspect that extravagant decorations are not needed. Simple flowers and candlelight are all that you need to enhance the atmosphere. Each room is tastefully decorated, offering natural lighting, art or other decorative wall hangings. The Instagram rooms are rusticly beautiful, making them perfect for the outdoorsy loving couple's dream.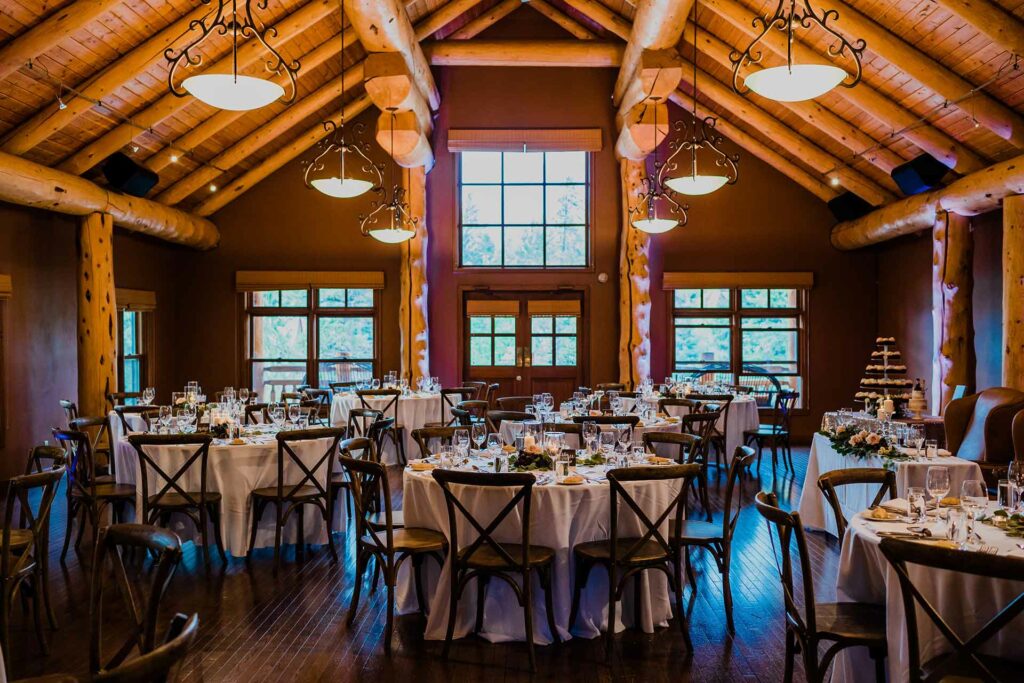 For couples that want to take advantage of the stunning natural beauty of the area and host their ceremony outside, the Tunnel Mountain Reservoir, located directly across from the lodge is a great option for exchanging vows.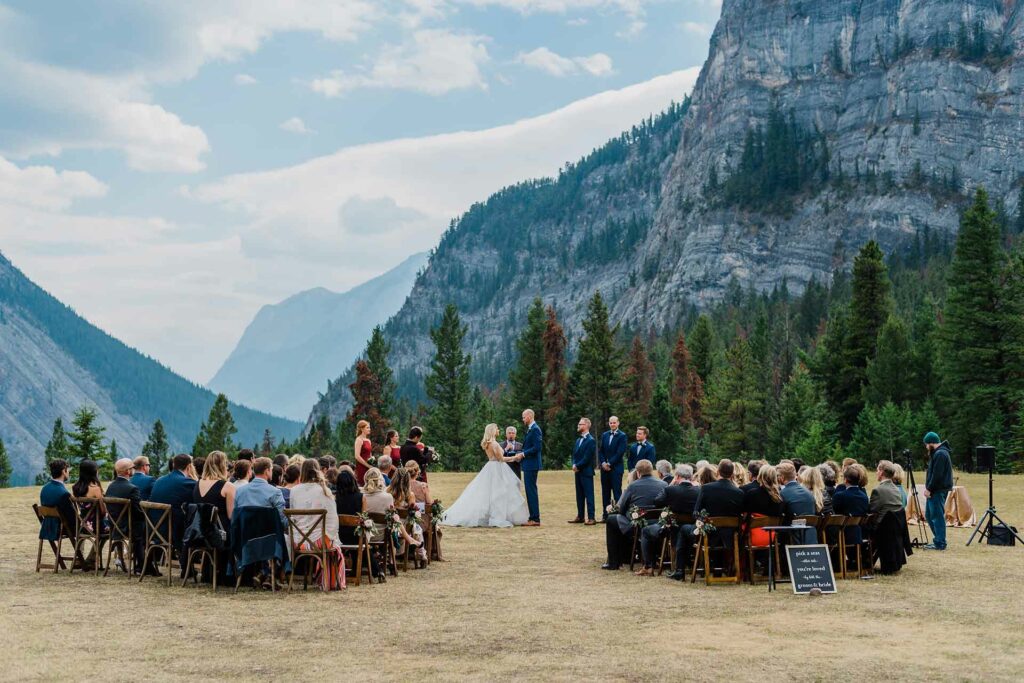 Pro tip: The reservoir is owned by the Town of Banff, but the wedding & events team at Buffalo Mountain Lodge will be able to put you in touch with the right person to assist with renting the location for your special day. After the ceremony is complete, many parties move inside to one of the three rooms mentioned above to enjoy the reception.
2. The Talented Wedding & Events team at the lodge
For all couples planning a wedding, one of the most important aspects is having someone by your side who can provide their expertise and knowledge of the venue and the surrounding area. Guests looking to plan a wedding at Buffalo Mountain Lodge work directly with the talented conference and wedding team to ensure all details are cared for, and that things run smoothly on the big day.
Whether it be setting up your room with tables, chairs, white linens and place settings, or helping to provide suggestions for the best menu and wine picks, the team is extremely knowledgeable and ready to answer any question you may have.
3. Authentic Rocky Mountain Cuisine that will take your food and wine game to the next level
Signature Rocky Mountain Cuisine is a dining philosophy that runs across all properties owned and operated by Canadian Rocky Mountain Resorts. Led by Executive Chef Alistair Barnes, Rocky Mountain Cuisine consists of high-quality, locally procured ingredients. Best described as an artful assemblage of fresh Canadian ingredients such as game meat (bison, elk, caribou, wild boar, venison and pheasant), Pacific halibut, Arctic char, Alberta lamb, AAA beef, prairie-grown grains, fresh indigenous berries, and locally sourced vegetables. Modern portrayals of classic techniques are featured in the cuisine and also play a huge role in weddings at the lodges. Couples can spoil their guests with items like CRMR Grilled Bison Tenderloin, Pan Seared Salmon and Free-Range Chicken breast – just to name a few.
The locally inspired menus are complimented by a diverse wine list offering global selections authored by CRMR Wine Consultant, Brad Royale. Buffalo Mountain Lodge's wine list most recently won Gold at the Vancouver International Wine Awards 2016, and the carefully curated a wine and spirits list means that there is truly something for everyone to enjoy.
4. The Accommodation
For weddings celebrated in Banff, chances are you will need some stunning accommodation to match.
Buffalo Mountain Lodge has 108 guest rooms that make up its rustic and cozy accommodation – 48 of which are their Premier units decorated with a king, queen or 2 queen size beds, natural fieldstone fireplaces, oversized baths featuring claw-foot soaker tubs, heated slab flooring and either a balcony or patio.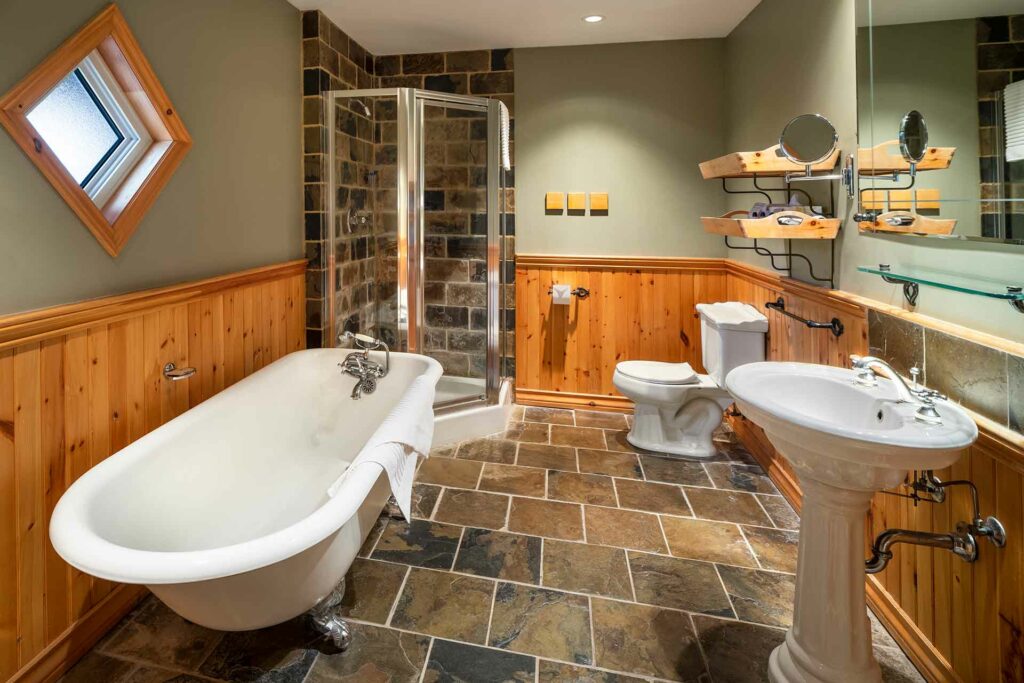 So your guests are excited, and they're coming out early or staying late to bask in the glory of summer in Banff National Park – what can they do?  For many people attending a wedding outside of the couple's central city or town of residence, there is a good chance they may make the wedding into a bit of a vacation of their own. For guests coming to celebrate a summer wedding in Banff, there are a plethora of Summer activities to take advantage of including mountain biking, boat tours and rentals, hiking, horseback riding, white water rafting and many more. Most activities are not located on site but are near the resorts, and the full-service team at Buffalo Mountain Lodge will happily concierge your guests to all the hot spots!
So, if you're feeling inspired by the beauty of this Banff gem, get in touch with their events team and start planning the happily-ever-after celebration of your dreams. To learn more about booking your wedding at Buffalo Mountain Lodge, visit our weddings page or get in touch with their team directly.